Pentagon plays catch-up as toll of repeat combat duty rises
A Department of Veterans Affairs study reports a three-fold increase in depression and post-traumatic stress after repeat combat duty, raising questions about the Pentagon's ability to keep soldiers with combat-related psychological problems away from the front.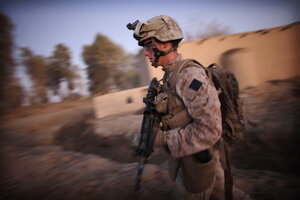 Kevin Frayer/AP
Emotional pain, depression, and angst among US soldiers seeing multiple deployments in war zones are much more common than the Pentagon has reported, a new Department of Veterans Affairs survey says.
Soldiers facing multiple deployments, moreover, are at least three times more likely to anonymously report problems of depression and post-traumatic stress disorder (PTSD) than are those with a single deployment, according to the study published Thursday in the American Journal of Public Health.

Coming as 30,000 more troops are being sent to Afghanistan, the findings in a study of nearly 3,000 New Jersey National Guardsmen are likely to spur additional debate over military and societal response to America's heavy dependence on volunteer soldiers for repeated deployments in two wars.

The findings also raise questions about the military's ability – and willingness – to properly screen soldiers for combat-related problems that could limit their effectiveness in war zones, writes Anna Kline, lead author of the VA study.

"The Pentagon has tried to downplay these problems, and now it's a moral and strategic outrage that we've got on our hands," says Lawrence Korb, assistant defense secretary in the Reagan administration and now a senior fellow at the Center for American Progress in Washington. "They're in essence playing catch-up."
---
Follow Stories Like This
Get the Monitor stories you care about delivered to your inbox.