Why is it taking so long for Pentagon aid to reach Haiti?
Pentagon officials say they're moving as fast as they can, but logistical challenges mean it will be a week before a US Navy hospital ship arrives to help Haiti earthquake victims.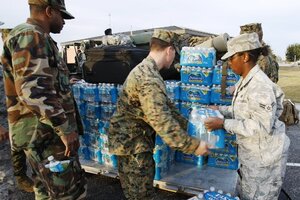 Alan Diaz/AP
The Pentagon is mobilizing a massive relief effort to help Haiti earthquake victims, but there are worries that the response will still take days to be in place.
The military's efforts are at the front end of what President Obama said Thursday would be a $100 million US commitment to Haitian relief.
But it is taking time to get there. The aircraft carrier USS Carl Vinson was expected to arrive Thursday afternoon but now will not be there until Friday. The USNS Comfort, a hospital ship, hasn't left the port of Baltimore yet because it still needs to collect supplies and personnel.
While the assessment teams are still conducting their review of the need in Haiti, mostly in Port-au-Prince, near the epicenter of the magnitude 7.0 earthquake, there is a clear need for medical assistance.
The aircraft carrier arriving Friday has three operating rooms, several dozen hospital beds and can produce fresh water. The Bataan amphibious ship also possesses some medical assets and is being outfitted with more. But it is the Comfort hospital ship, with its 250 hospital beds and 12 operating rooms, that would appear to meet the most pressing need in Haiti.
A week for hospital ship to get there
Pentagon officials say that ship, one of the Navy's two hospital ships, won't leave Baltimore until this weekend and not arrive until sometime at the end of next week.
---