US sends aircraft carrier to help with Haiti earthquake damage
The US military is putting other ships on standby. In addition to assessing Haiti earthquake damage, officials are also keeping a close eye on the country's security and stability.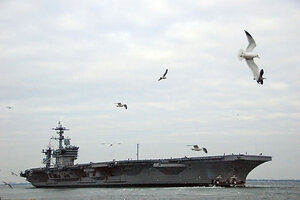 Petty Officer 2nd Class Rafael Martie/US Navy/AP
The US government has begun to mobilize what is likely to become a massive humanitarian relief effort to deal with Haiti earthquake damage, rerouting an aircraft carrier and other ships, using aerial reconnaissance planes, and sending assessment teams to arrive later Wednesday.
The aircraft carrier USS Carl Vinson is expected to reach Haiti by Thursday afternoon, after loading up with relief supplies at a depot in Mayport, Fla., Pentagon officials say. A number of other ships, including the USNS Comfort hospital ship and a group of amphibious ships with a Marine Expeditionary Unit aboard, are on standby and may leave for Haiti in the next few days. In addition, the US Coast Guard has deployed a number of cutters that were already in the region, officials say.
But significant challenges loom. The main airport runway is in decent shape but for now will offer limited ability to absorb the massive amount of airlifted aid, said Gen. Douglas Fraser, head of US Southern Command in Miami, during two briefings of reporters Wednesday in Washington.
Meanwhile, the Defense Department is sending at least one assessment team of 25 individuals plus a dozen or so medical and other experts, who are due to arrive Wednesday. And a P-3 Orion reconnaissance plane is being used to create a more accurate picture of the devastation.
---