Haiti earthquake: 10 UN peacekeepers from Brazil killed
The Haiti earthquake has killed at least 10 Brazilian soldiers, according to Brazil's military. Brazil took charge of the peacekeeping force in Haiti in 2004.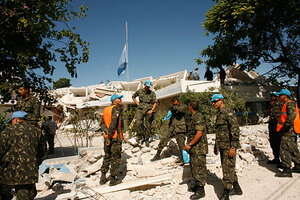 Eduardo Munoz/REUTERS
At least 10 Brazilian soldiers died in the Haiti earthquake and many more are missing or injured, Brazil's military said Wednesday.
Some of the missing are believed to be buried in the rubble of the Hotel Christopher, home to the Brazilian-run UN Peacekeeping Mission in Haiti.
Nine others are being treated for injuries, according to a military statement.
Brazil took over as the main peacekeeping force on Haiti in 2004 and retains command of an operation with more than 1,200 Brazilian soldiers.
Another Brazilian victim was Zilda Arns, the legendary founder of the Children's Pastoral, a Roman Catholic Church-based group that has saved tens of thousands of lives by teaching uneducated women about basic health care issues.
The death toll could still rise.
Preliminary reports said the rubble scattered across the city made it hard for military vehicles to determine the true scope of the damage. A lack of power and street lighting added to the confusion in the first hours after the quake, which struck at around 5:30 pm Eastern Standard Time on Tuesday.
"The civilian population has turned up en masse at the Brazilian Command Battalion base least affected by the shocks, looking for help and assistance in rescuing the injured," a military statement said.
---