T-39N trainer jet crash: one-quarter of Navy T-39Ns have now crashed
The crash Monday of a T-39N trainer jet in Georgia is the second Navy training accident in the region in four years and the fourth in a decade. Witnesses saw the jet flying low before the crash.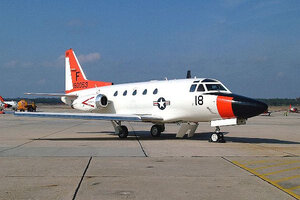 U.S. Navy photo by Patrick Nichols.
After swinging at low altitude across the wooded hills of Georgia's Fannin County, a Navy T-39N trainer jet crashed Monday, becoming the fourth Navy trainer to go down in eight years – a quarter of the original fleet ordered by the Navy in the 1990s.
The flight of the T-39N involved in Monday's crash originated at the Naval Air Station in Pensacola, Fla., the home of the Navy and Marine Corps pilot training command. The plane, part of Training Air Wing 6, was in north Georgia as part of a cross-country training mission, according to the Navy.
In 2006, a T-39N crashed on Johns Mountain in northwest Georgia after it flew so low it hit a tree. The 2006 crash came during an exercise labeled as "low-level bomb targeting."
On May 8, 2002, the Navy training command lost two T-39Ns on the same day over the Gulf of Mexico. The cause has never been determined. No mayday signals were sent and the planes were never recovered. Navy Capt. Charles Tinker, in a eulogy at the time, called the 2002 disappearances "a tragic mystery."
According to Rob Koon, a spokesman for Naval Air Systems Command in Patuxent River, Md., the Navy ordered 15 of the T-39N planes, a military version of the North American Rockwell-built Sabreliner, a corporate jet. That means one-quarter of the original T-39N training fleet has now crashed.
---