Al Qaeda killings show growing competence of Iraqi Army
Iraqi Army is being credited for finding and killing two top figures with Al Qaeda in Iraq, including leader Abu Ayyub al-Masri.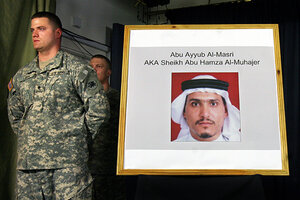 Karim Kadim/AP/File
The US is heralding the killing of two top al-Qaeda leaders in Iraq as a reflection of just how mature Iraqi security forces - including the Iraqi Army - are becoming, suggesting the incident could be hugely significant to the future security of Iraq. But some experts are still taking a wait-and-see approach.
US officials confirmed Monday that Abu Ayyub al-Masri, the head of Al Qaeda Iraq, and a mysterious colleague, Abu Umar al-Baghdadi, were killed in a joint US-Iraqi operation west of Tikrit on Sunday.
News reports of the deaths of senior militant leaders in Iraq, Afghanistan, or elsewhere rarely draw immediate confirmation and then praise from the US military and other government leaders. But it appeared that, as the US confronts drawing down its forces during the next four months, it was ready to trumpet the news.
"Their deaths are potentially devastating blows to Al Qaeda Iraq," said Vice President Joe Biden in a statement to the media in the briefing room of the White House Monday.
---