Iraq announces deaths of two senior Al Qaeda leaders
Iraq said Monday it had killed Abu Omar al-Baghdadi and Abu Ayyub al-Masri, allegedly two of the most senior members of Al Qaeda in Iraq. The US said DNA testing had confirmed their deaths.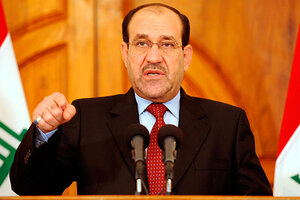 Iraqi Government/Reuters
Iraqi and US security forces believe they have killed the two senior leaders of Al Qaeda in Iraq in what the American military said could be the most significant blow to the organization since it was formed.
Iraqi Prime Minister Nouri al-Maliki announced Monday that the two men known as Abu Omar al-Baghdadi and Abu Ayyub al-Masri were killed in a raid in northern Iraq on Sunday. He displayed for state television photographs of the bodies of two men identified as al-Baghdadi and al-Masri, both of them noms de guerre for high-ranking leaders of the organization.
Iraqi officials have incorrectly announced the death of al-Baghdadi several times over the past two years. This time, a US military spokesman said DNA testing has proven the demise of both men.
The US military said that Iraqi and American security forces killed the two in raids Sunday just southwest of Tikrit, Saddam Hussein's hometown. A military statement said a series of operations over the last week led them to a safe house where the men were hiding. US forces appear to have called in a rocket attack on the house after gunmen inside opened fire.
A US soldier was killed in the operation and three others wounded when their helicopter crashed during the overnight operation. The US military said previously the aircraft was not downed by enemy fire and it was investigating the cause of the crash.
---