Iraq bomb before election has some fearing new civil war
Just two weeks before crucial Iraq parliamentary elections and amid a dispute over the disqualifications of some candidates with ties to Saddam Hussein's banned Baath party, a suicide bomber killed 11 in Anbar Province. Some in Iraq are worried that the controversial disqualifications are heightening tensions.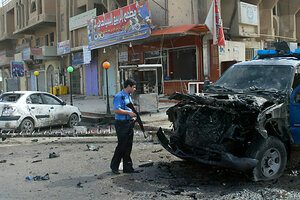 Ali al-Mashhdani/Reuters
A suicide car bomber killed at least 11 people Thursday in an apparent election-related attack near provincial government buildings, while Iraqi politicians stepped back from a raging dispute over banned candidates that has raised warnings of a new civil war.
Iraqi officials said a suicide bomber detonated near a checkpoint outside the Al Anbar governorate buildings in Ramadi, 60 miles west of Baghdad. At least 22 others were wounded in the attack – the third against the government center in the provincial capital since October.
Al Qaeda in Iraq, which still retains cells in its former stronghold of Anbar Province, has taken credit for a series of suicide attacks since August and has publicly threatened to derail the March 7 elections.
This election, the first since 2003 in a fully sovereign Iraq, is seen as crucial to Iraqi stability. Anbar, with its majority Sunni population, largely boycotted the 2005 elections in protest against a Shiite-dominated, US-backed process.
---