Iraqi voters show preference for can-do over creed
An emerging backlash against rule by religious parties gives opening to technocrats in Jan. 31 provincial elections.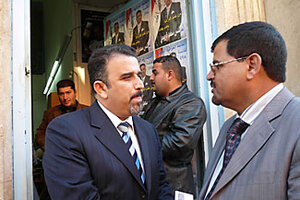 Jane Arraf for the Monitor
Mohamed al-Rubeiy, the image of a prosperous businessman in a dark blue suit and gold watch, beams from thousands of posters plastered on walls advertising his run for a seat in Iraq's provincial elections.
The liberal, middle-aged businessman is running a campaign that he says was inspired by Barack Obama – blending American-style tactics with traditional Iraqi politics – and is emblematic of what appears to be a groundswell against rule by religious parties.
"There has been a backlash," says Adnan Pachachi, a former Iraqi foreign minister and now a member of parliament. Mr. Rubeiy is affiliated with his party. "There has been so much corruption because the religious parties got people who were not qualified to run the ministries.... It's really been a bitter disappointment in some places because they say we voted for them and they did nothing."
An Iraqi government-funded opinion poll recently found that nearly one-third of voters surveyed listed improving local services as their biggest priority. Almost half preferred secular over religious candidates.
Rubeiy is one of more than 4,400 candidates competing for 440 provincial council seats in 14 (out of 18) Iraqi provinces. The vote, with its much larger participation by Sunni parties than the last election, is expected to redraw Iraq's political map in many places and pave the way for a redistribution of power in national elections at the end of the year.
Rubeiy is counting on the religious backlash – and studying Mr. Obama's political playbook. "I was very affected by President Obama when he spoke with people in the debates," says the Romanian-educated engineer, brimming with enthusiasm. So affected, he challenged one of his rivals, the mayor of Baghdad, to debate him. Thursday's face-off, he says, was the first of its kind in Baghdad.
---