How Times Square bomb arrests unite US, Pakistan
Pakistan's arrest of two suspected members of the Pakistan Taliban connected to the attempted Times Square bomb show that it is taking seriously the threat of militants within its borders.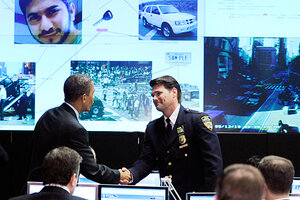 Susan Walsh/AP
Pakistan's arrests of at least two members of the Pakistan Taliban in connection with this month's attempted bombing in New York's Times Square reinforces how the interests of the US and Pakistan have begun to coincide.
A senior military official confirmed Friday that in recent days Pakistan arrested at least two individuals who provided training and resources to Faisal Shahzad, the American from Connecticut who allegedly attempted to detonate a car bomb in Times Square earlier this month.
The individuals were picked up separately, from locations within Pakistan that were not immediately clear. They had provided monetary and other forms of support, the military official said.
"They helped move the money to Shahzad," said the official, "as best as we can tell."
The arrests, first reported Friday by The Washington Post, underscore how Pakistan has begun to see and take seriously the threat posed to its government by Taliban militants. The Pakistan Taliban, sometimes known as Tehrik-i-Taliban, is distinct from another militant group in Pakistan, the Afghan Taliban, which typically stages attacks from Pakistan into Afghanistan.
---