BP Oil Spill: Is it time for the Pentagon to take over?
The BP oil spill relief effort lacks a clear command-and-control structure, senators said at a hearing Friday. Some suggest that greater Pentagon involvement would help.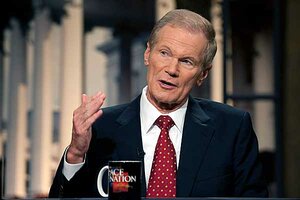 Chris Usher/Face the Nation/AP
Should the Department of Defense take command of the response to the BP oil spill?
Some federal lawmakers and local officials are continuing to push such a move to help overcome what they see as a tangled and ineffective spill cleanup command-and-control structure.
At a Senate hearing on Friday, Sen. Ben Nelson (D) of Florida expressed frustration with the state of the Gulf response task force, saying that in one 90-minute period last week, officials gave him three different estimates of the number of ships deployed off the Florida coast to block drifting oil patches.
IN PICTURES: The Gulf oil spill's impact on nature
"The finest command-and-control capability in the world is the United States military," said Sen. Bill Nelson (D) of Florida on Friday at a Senate hearing on the effects of the oil spill. "You have got to have somebody with a clear chain of command in charge."
Local Gulf leaders at the hearing, held by a Senate Homeland Security Committee ad hoc panel, agreed that something needs to be done to streamline the response team's decision-making process.
---