Obama moves to take political control of BP Gulf oil spill
President Obama has named a bipartisan commission to investigate the causes of the BP Gulf oil spill, one of the nation's worst environmental disasters, including any government failures.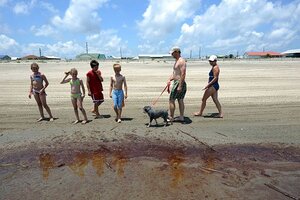 Newscom
A month after the BP Deep Horizon drill rig exploded off the coast of Louisiana, spewing oil into the Gulf of Mexico, President Obama has moved to take greater political control of what is becoming one of the nation's worst environmental disasters.
On Saturday, Obama named a bipartisan commission to report on the causes of the oil spill but also "to take a comprehensive look at how the oil and gas industry operates and how we regulate them."
While environmental protection and domestic energy production are the main issues here, there's also a clear political dimension to finding answers and acting deliberately to prevent future spills.
IN PICTURES: Louisiana oil spill
"There is a strong tendency for the public to penalize incumbents even for natural disasters if there is a plausible governmental angle – regardless of whether the government failed to respond adequately," Eric Schickler, a political science professor at the University of California, Berkley, told Reuters. "If the oil spill has a significant impact on the Gulf Coast economy – and as a result, on the U.S. economy as a whole – it is likely to impose at least some damage on the president and his party."
---