Julian Assange: the hacker who created WikiLeaks
Julian Assange has started WikiLeaks to promote what he calls 'scientific journalism.' WikiLeaks released 90,000 classified documents about the war in Afghanistan Sunday.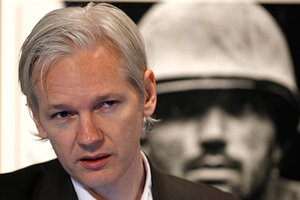 Andrew Winning/Reuters
The man behind WikiLeaks, Julian Assange, is coming in for both praise and criticism after his classified information clearinghouse published thousands of secret military documents relating to the war in Afghanistan Sunday.
Mr. Assange's work is much better known than he is. The newest leaks have uncovered evidence about a number of things previously reported but not confirmed, including:
• Numerous incidents of American forces killing innocent Afghan civilians.
• The existence of a secret unit of American special forces tasked with killing or capturing top Al Qaeda and Taliban leaders.
• Worries among US officials that elements of Pakistani intelligence were aiding the Taliban.
However, the documents have also sparked renewed interest in the WikiLeaks founder, whose roots as a computer hacker inform his ethos, which he terms "scientific journalism" – a desire to get to underlying facts by turning to encyclopedic volumes of raw material.
---