Russian defense minister's Washington trip brings old foes together
Russian Defense Minister Anatoyl Serdyukov comes to the Pentagon for the first time this week to meet with Defense Secretary Robert Gates, a former intelligence officer once skilled in the art of Kremlinology.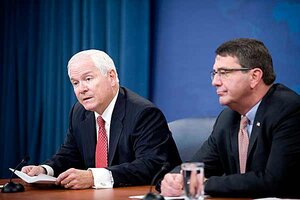 Kevin Wolf/AP
Early in his career, Secretary of Defense Robert Gates honed his intelligence skills practicing the art of Kremlinology. He analyzed footage of high-ranking Soviet officials as they inspected soldiers parading through Red Square, and took note of who was standing next to whom in an effort to gauge who was in and who was out.
It was, he has said, a surprisingly effective means of gathering intelligence.
This week, Gates will need to call on his considerable experience with Moscow as he prepares to welcome a Russian Minister of Defense to the Pentagon for the first time. "I mean, here is Secretary Gates, who made his career analyzing the Soviets, and here he is as the Secretary of Defense for the first time inviting his Russian counterpart to come to the building," said Pentagon spokesman Geoff Morrell, emphasizing the historic nature of the meeting.
Russians, for their part, are fascinated by Gates, says Travis Sharp, a defense analyst at the Center for a New American Security. "There's a level of respect for Robert Gates in Russia."
---