'Kill squad' fallout: How many US troops in Afghanistan use hashish?
Adm. Mike Mullen, the Pentagon's top officer, said Wednesday that the 'kill squad' allegations – that drug use could have been a factor in one unit's decision to allegedly kill Afghans for fun – raises questions about troops' use of hashish in Afghanistan.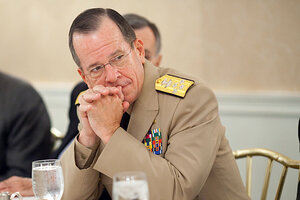 Michael Bonfigli/The Christian Science Monitor
The reports that US soldiers accused of plotting and then killing innocent civilians in Afghanistan smoked hashish have sparked concerns among US military officials about how often other US troops may use illegal drugs as well.
Hashish is plentiful and easy to obtain in Afghanistan, and its use has long been a source of concern for US military officials trying to gauge the performance of Afghan soldiers and police.
But those officials are now increasingly discussing whether hashish use is also spreading among American soldiers in Afghanistan or whether the current case is an aberration.
"Certainly that kind of problem is a huge issue if it's out there," Adm. Mike Mullen, chairman of the Joint Chiefs of Staff, said Wednesday at a Monitor-sponsored breakfast for reporters.
---