UAV is latest Air Force plane tested to run on alternative fuel
The Air Force has been running flight tests with the goal of certifying its US fleet to burn a 50-50 mix of fossil fuels and alternative fuels by 2016. On Monday it tested a Global Hawk UAV.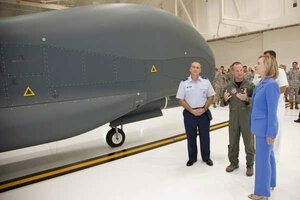 Evan Vucci/AP
A drone that runs on alternative fuels?
That's the latest from the Air Force, which has been running tests to see how its aircraft perform burning something other than straight jet fuel. The initiative is aimed not only at shrinking its carbon footprint and spurring alternative fuels development, but also at strengthening national security.
Monday's alternative fuel test of the Global Hawk UAV was considered one of the most challenging yet for the Air Force.
The drone that flies at high altitudes and low temperatures was one of the last that the Air Force needed to test in its current spate of trial runs before its fleet is certified to run on a 50-50 blend of jet fuel and alternative fuels.
The ultimate gauge of success is that the aircraft flies without incident, and moreover, that "the pilots can't tell any difference" in the performance of their respective planes, says Gary Strausburg, the Air Force's chief of environmental public affairs.
The Air Force burns about the equivalent of a single midsize commercial airline each year, or about 2.5 billion gallons. For that reason, it can help encourage innovation in the development of alternative fuels.
But partnerships with industry are vital, too, because for many biofuels "the tricky part is the cost," says Timothy Bridges, deputy assistant secretary of the Air Force for environment, safety and occupational health. The science, too, is a challenge, since the Air Force ultimately wants to be able to pump biofuels – including plant extracts and animal fats – into aircraft without changing out any parts.
---