'Don't ask, don't tell' survey shows ambivalence to gays in the military
The Pentagon's report on 'don't ask, don't tell' suggests that the ban on openly gay members can be repealed safely. But significant resistance remains in some quarters, including the Marines.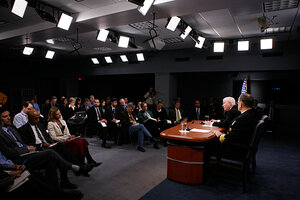 Kevin Lamarque/Reuters
The results of the Pentagon's highly anticipated "don't ask, don't tell" survey, released Tuesday, confirmed what many suspected based on earlier Pentagon leaks: that within most of the US military, repeal of the ban on openly gay service members serving "would not be the wrenching dramatic change that many have feared and predicted," Defense Secretary Robert Gates said.
Mr. Gates urged Congress to pass the repeal before the US courts do it "by judicial fiat," an event that Gates called "my greatest fear."
In a briefing Tuesday afternoon, Gates also told reporters that he believes repealing the ban is the right thing to do. "One of the things that is most important to me is personal integrity," Gates said. "And a policy or a law that in effect requires people to lie gives me a problem."
More than two-thirds of troops surveyed – in what senior Pentagon officials called the largest, most comprehensive review of a policy matter that the military has ever conducted – said they would not object to gays and lesbians serving openly in uniform. Half of US troops think a repeal of the policy will have mixed or no effect, while another 15 to 20 percent said that the repeal's effect would be "positive," according to the survey.
---