What are pros and cons of a no-fly zone over Libya?
As some Congressional leaders urges military intervention in Libya, the Pentagon emphasizes the difficulty of implementing a no-fly zone or other proposed military solutions.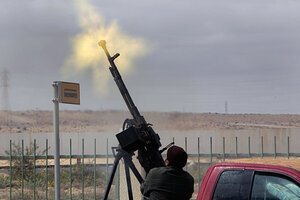 Hussein Malla / AP
While Congressional leaders have been calling for the Obama administration to intervene in Libya, Pentagon officials have demurred.
"There's a lot of, frankly, loose talk about some of these military options," Defense Secretary Robert Gates told the House Appropriations Committee. "Let's just call a spade a spade. A no-fly zone begins with an attack on Libya to destroy the air defenses. That's the way you do a no-fly zone."
Secretary Gates will offer President Obama "a range of options," but he "believes it is his duty to also present what the possible ramifications are of each option that is being considered," said Pentagon spokesman Geoff Morrell, with an eye towards NATO meetings Thursday that are likely to be dominated by discussion of the feasibility of a no-fly zone in Libya.
Gates is not the first Pentagon official to emphasize the difficulty of implementing a no-fly zone. But Congress is increasingly challenging whether it is really such a tricky prospect for the most exquisitely-equipped military in the world.
---