Pentagon's quiet shift on Afghanistan war: Maybe safe havens aren't crucial
For years, the Pentagon has stressed the importance to the Afghanistan war of eradicating safe havens for the Taliban and other insurgents in Pakistan. Now, it's easing off those claims.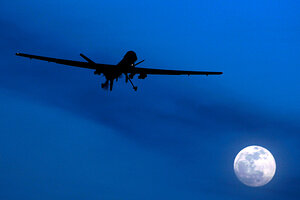 Kirsty Wigglesworth/AP/File
After stressing for years that removing insurgent sanctuaries in Pakistan is vital to winning the war in Afghanistan, US military officials are subtly deemphasizing the importance of that goal as realities on the ground shift.
Foremost among Pakistan's sanctuaries has been North Waziristan, which has served as headquarters for a key insurgent group allied with the Taliban, the Haqqani network. Without the Haqqani network, many senior US military officials believe, the Taliban would likely not be able to sustain operations against NATO troops throughout Afghanistan.
Yet in comments that surprised many analysts, Lt. Gen. David Rodriguez, commander of US troops in eastern Afghanistan, told Pentagon reporters last month that, even if Haqqani network forces aren't cleared out of North Waziristan, it is still possible for the United States to win the war in Afghanistan.
"I think that's doable if it doesn't continue, you know, if it doesn't get significantly worse," Rodriguez said of insurgent attacks launched from North Waziristan. The continued operation of the Haqqani network is "not a mission-stopper in my mind."
Changes on the ground
Puzzling compared with the military's past statements, the assessment nevertheless makes sense in light of recent developments on the ground in both Pakistan and Afghanistan, military experts argue.
---