Gates, Clinton: Libya not a 'vital interest,' but US could be there for months
Secretary of Defense Gates and Secretary of State Clinton say the US-led military action in Libya is going well. But while Libya is not a 'vital interest,' the US could be there for months.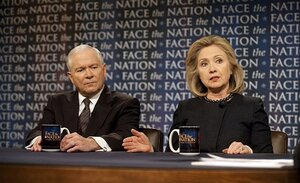 Chris Usher/CBS/AP
On the eve of President Obama's major speech on the rationale for going to war in Libya, senior officials say the joint military effort there is going well.
But they add that additional US weaponry might be needed to attack Muammar Qaddafi's forces on the ground, and they hold out the possibility that it might be months before the military mission is over.
Speaking on several Sunday television news shows, Defense Secretary Robert Gates and Secretary of State Hillary Clinton increased the rhetorical pressure on Qaddafi – and on his closest aides, who might be persuaded to abandon him.
The administration is "sending a message to the people around him," Sec. Clinton said on NBC's Meet The Press. "Do you want to be a pariah? Do you really want to end up in the international criminal court? Now is your time to get out of this and to help change the direction."
---