Libya rebels push west again, but Sirte awaits
In the past 24 hours, Libya's rebels have made stunning territorial gains. But Libyan leader Muammar Qaddafi's stronghold of Sirte won't be so easy to take.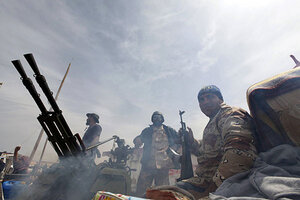 Youssef Boudlal/Reuters
In late February, the Libyan revolution was evolving at breakneck speed. After ousting Muammar Qaddafi's forces from Benghazi and the rest of the country's eastern population centers, untested young fighters piled into trucks and private cars and surged west.
Rolling into Bin Jawwad on Feb. 28 and knocking on the doorstep of Mr. Qaddafi's hometown of Sirte, there was patriotism, optimism, and a steady conviction that the mercurial dictator was days away from death or exile.
Then came the counterattack from an enemy the rebels couldn't see.
The shabaab (youths) were ambushed by Qaddafi supporters secreted inside Bin Jawwad, driven out of the oil town of Ras Lanuf by withering rocket and tank fire that killed dozens, and knocked all the way back to Ajdabiya, the gateway to Libya's liberated east.
Now this ping pong match of a war along Libya's coastal desert has shifted back in the rebellion's favor, thanks to a week of French, UK, and American air assaults that have shifted the burden of fear onto Qaddafi's forces.
Qaddafi's air cover has been removed from the equation and the desert roads that his tanks and missile launchers once prowled with impunity have turned into a turkey shoot for British Tornadoes and French Mirages.
---