Libyan rebels celebrate victory in Ajdabiya
They acknowledge that Western airstrikes on Libya were crucial to turning the tide in the eastern city. But even with such support, how far they can advance toward Tripoli is uncertain.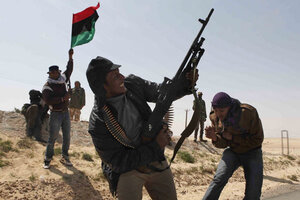 AP
Ecstatic rebels and residents of Ajdabiya, the eastern Libyan city that's been under siege for the past two weeks, poured out into the streets today firing guns wildly into the air and celebrating a stunning reversal in fortune.
"This is our victory, we did this," says Abdul Hamid Zwei, an Ajdabiya native snuck back into town from Tripoli two weeks ago to participate in the rebels' defense of the city. "But there's no way we'd be celebrating today if not for all of Qaddafi's tanks and vehicles being destroyed from the air."
Indeed, the panicked withdrawal of Muammar Qaddafi's troops from town around dawn this morning marks the first major military victory for the rebellion and owes much to the resolve of the uprising's young militia. But what really turned the tide here was the massive, sustained air campaign mounted by Britain, France, and the US in the past week.
While the UN Security Council resolution authorizing the action says the air campaign is only to protect civilians, its implementation is giving the rebellion their best chance of marching on Qaddafi's strongholds in the west.
Devastatingly precise air strikes
Huge stockpiles of ammunition lie jumbled by the road leading west. Around town are the remains of over 20 tracked military vehicles – tanks, armored personnel carriers, and heavy artillery guns.
---