Uncle Sam wants you ... to reach out to help America's military families
Joining Forces, a new White House campaign launched Tuesday, endeavors to raise Americans' awareness of the needs of troops, veterans, and military families.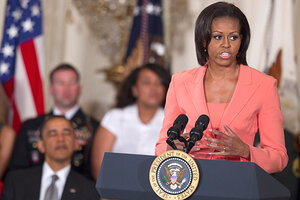 Evan Vucci/AP
The White House launched a national campaign Tuesday to better assist military troops, veterans, and their families struggling with the aftermath of 10 years of war.
Military assistance groups acknowledge that troops and their families continue to grapple with often-hidden wounds of war. These include not only the 43,000 troops who have sustained combat injuries, but also those who face financial pressures and children who are falling behind in school.
These plights often go unacknowledged by much of the country, say US military officials, pointing to perhaps the most-cited statistic among troops – that less than 1 percent of Americans serve in the US armed forces.
The new White House initiative, called Joining Forces, will focus on improving employment opportunities, education, and mental health among troops and their families. To that end, the White House is working to bring nonmilitary communities into the fold, to partner with small businesses and community organizations in "an unprecedented national campaign," first lady Michelle Obama said Tuesday.
The national effort "is the result of everything that you have shared over the past two years," Mrs. Obama told a White House audience of current and retired military service members, and administration officials including President Obama and Vice President Joe Biden. "These families appealed to us, 'Please don't let Americans forget what we deal with.' "
---
Follow Stories Like This
Get the Monitor stories you care about delivered to your inbox.