A US cyberwar doctrine? Pentagon document seen as first step, and a warning.
A yet-to-be-released Pentagon document on cyberwar reportedly lays out when the US would respond with conventional force to a cyberattack: when infrastructure or military readiness is damaged.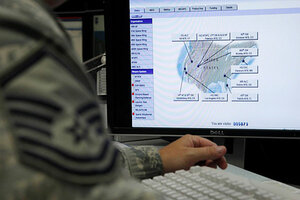 Rick Wilking/Reuters
Any computer-based attack by an adversary nation that damages US critical infrastructure or US military readiness could be an "act of war," according to new Defense Department cyberwarfare policies that have yet to be officially unveiled.
A not-yet-released Pentagon document outlining US military cyberwarfare doctrine cites the example of cybersabotage – the use of a malicious computer program to attack US infrastructure or military systems – which could under new policy guidelines elicit a response of American bombs and bullets, according to a Wall Street Journal article Tuesday that revealed the existence of the document.
The document, which reportedly includes an unclassified as well as a secret portion, is described as partly policy document – and partly a warning to any future adversaries to step gingerly – or else. It discusses the idea of "equivalence" – a military concept whose premise is that if a cyberattack causes destruction and death or significant disruption, then the "use of force" in response should be considered, the Journal reported.
If the new Pentagon document does indeed lay out what the United States considers an "attack" worthy of a military response to be, it would be a key move toward a far more coherent policy on responding to cyberattacks, experts say.
---