Medal of Honor: Ranger who grabbed grenade in Afghanistan to receive award
Medal of Honor recipient Sgt. 1st Class Leroy Petry, a father of four, will be the second living veteran of the wars in Iraq and Afghanistan to receive the award.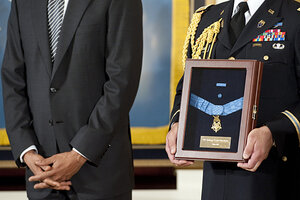 Saul Loeb/AFP/Newscom
A US Army Ranger who grabbed an enemy grenade and tossed it away from his fellow soldiers during a battle in Afghanistan will receive the nation's highest award for valor, the White House announced Wednesday.
Sgt. 1st Class Leroy Petry, an Army Ranger originally from Santa Fe, N.M., will be only the second living recipient of the Medal of Honor for "acts of gallantry" in the conflicts in Iraq and Afghanistan when President Obama bestows the honor at a White House ceremony July 12.
The other living recipient, Army Staff Sgt. Salvatore Giunta, a rifle team leader in the 2nd Battalion (Airborne), 503d Infantry Regiment, was awarded the medal last September for rescuing a wounded fellow soldier from enemy hands during a skirmish with Taliban fighters in Afghanistan in October 2007. Seven other service members have received the medal posthumously for actions in Iraq and Afghanistan.
Sergeant Petry, a father of four who now serves with the 75th Ranger Regiment at Fort Benning, Ga., as a liaison for wounded soldiers, is credited by fellow Rangers with saving their lives during a May 2008 battle in Paktia, Afghanistan. Petry lost a hand and sustained other injuries in the fight.
---