Obama's new national security team faces major challenges
President Obama's new national security team, headed by Leon Panetta and General David Petraeus, has a wealth of experience. But it faces major challenges, especially in Afghanistan.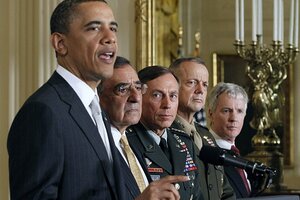 Jason Reed/Reuters
In announcing his new national security team Thursday, President Obama sought to demonstrate confidence and continuity at a time when the US is trying to conclude its active military engagement in several places around the world.
Events on the ground – mainly in Afghanistan, where evidence of solid progress remains elusive – will determine whether he succeeds.
But the men named to critical military, intelligence, and diplomatic posts are generally agreed (at least within the Washington establishment) to be the best there are under the circumstances. They all have decades of experience in their fields, and they all have worked well together in the past.
Here are the shifts in personnel announced Thursday:
• CIA Director Leon Panetta will replace Robert Gates as Secretary of Defense.
• General David Petraeus will retire from the US Army to take over the CIA from Mr. Panetta.
• US Marine Corps Lt. Gen. John Allen will become commander of allied forces in Afghanistan, replacing Gen. Petraeus.
---
Follow Stories Like This
Get the Monitor stories you care about delivered to your inbox.