What Obama's security team shakeup could mean for Afghanistan
The loss of America's top three military and diplomatic leaders at once worries Afghans. But some see the potential for a fresh start with President Karzai.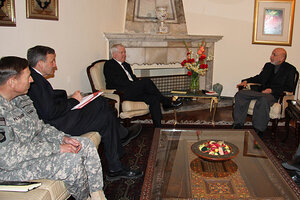 S. Sabawoon/AP
A major exodus of top US leadership in Afghanistan has some Afghans nervous about the sudden loss of American expertise in the region. But others express hope for a fresh start in the strained relationship between Afghan President Hamid Karzai and US envoys.
Ambassador Karl Eikenberry, top military commander Gen. David Petraeus (expected to be tapped to run the CIA), and his deputy, Lt. Gen. David Rodriguez are all reported to be moving on from their current positions shortly. Between them, they have a combined 10 years of experience based on Afghan soil. This follows the recent passing of US special envoy to the region Richard Holbrooke in December.
Afghanistan is a complicated place, with tribal feuds, international intrigues, and decentralized bands of insurgents. The loss of America's top three military and diplomatic leaders at once – especially ones so experienced – worries Afghans about the time lost in the transition.
"Rapid personnel changes bring more insecurity to the people of Afghanistan," says Fawzia Kofi, a member of Afghanistan's Parliament. "It sends a signal of disinterest in Afghanistan, and the individuals take institutional memory with them."
---
Follow Stories Like This
Get the Monitor stories you care about delivered to your inbox.