Pentagon 'doomsday'? Or are super committee failure fears overblown?
Pentagon leaders have said the automatic cuts set to kick in now that the deficit super committee has failed would be catastrophic. But in reality, the cuts might not be too bad, experts say.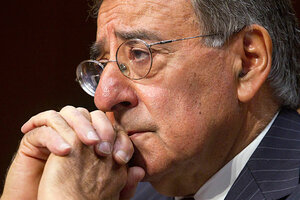 Evan Vucci/AP
It is the Pentagon's self-described worst nightmare: The failure of the super committee to reach a deficit deal will now trigger what Defense Secretary Leon Panetta has described as a "doomsday" scenario.
Namely, this entails $600 billion in mandatory budget cuts during the next decade – in addition to $450 billion in cuts that the Pentagon had already agreed to.
Mr. Panetta for his part has provided impassioned pleas against the mandatory cuts, warning for months against their dangers to the US military. "It is a ship without sailors. It's a brigade without bullets. It's an air wing without enough trained pilots," he told lawmakers on Capitol Hill earlier this month. "It's a paper tiger."
In short, he warned, "It invites aggression."
Such dire exhortations, however, are causing some budget analysts to roll their eyes, as they note that even the most extreme cuts would merely bring Pentagon spending back to 2007 levels.
Others have calmly pointed out that the mandatory cuts – which are not slated to go into effect until January 2013 – are unlikely to survive the election year. At such times, politicos are generally loath to take on the Pentagon. Instead, presidential candidates and lawmakers alike tend to compete to outdo each other in assuring voters that they are more committed to strong national defense than their opponent.
---
Follow Stories Like This
Get the Monitor stories you care about delivered to your inbox.