As Iraq war ends, strange hush descends on US bases
With all US troops set to be withdrawn from Iraq by Dec. 31, bases that once bubbled with activity are now emptying, leaving behind wistful stragglers and a shortage of Oreo cookies.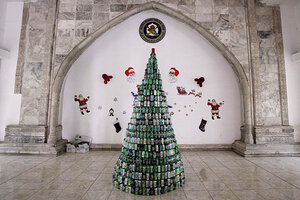 Shannon Stapleton/REUTERS
In the final days of the Iraq war, US troops here have increasingly become sightseers as they await their flights back home.
The tale of the American military's last days in Iraq has many faces, from the soldiers desperate to impart last lessons to the uncertainties gripping their Iraqi colleagues. But for many US troops, it is a gentle unwinding as the mementos that have for eight years made American bases in Iraq some version of "home" – from rooftop driving ranges to copy machines to chai lattes – slowly disappear.
As they log their last helicopter rides in-country and their farewell meetings with Iraqi counterparts, troops here admit to a certain wistfulness at their imminent departure.
They tromp through the acres of gravel that have long lent US bases here a perpetual grey patina, taking souvenir photos of state flags and unit logos painted and signed on the high concrete barriers, as they pose with their comrades in arms.
They take in rooftop panoramic views of Baghdad to say goodbye.
But most of all, they are immersed in the considerable undertaking of packing to be ready for the trip home.
The sundries shop at Sather Air Base – where soldiers stock up on snacks, sodas, and a reliable array of motorcycle-themed magazines – recently ran out of souvenir Iraq travel coffee mugs. Shop employees say they are struggling to keep up with demands for Oreos as troops leave and State Department employees arrive. (The base has been renamed the Baghdad Diplomatic Support Center in a nod to the State Department's new and increased role in the country.)
---