Mission accomplished, really: US war in Iraq officially ends
Some 4,000 US forces will be exiting Iraq in the coming days. 'Iraq will be tested in days ahead,' warned Secretary of Defense Leon Panetta, at an end-of-mission ceremony Thursday.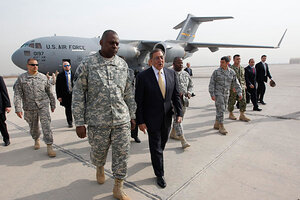 Pablo Martinez Monsivais/AP
The Pentagon's top officials flew into Iraq Thursday to mark the end of the American war here.
Eight years in coming, a ceremony Tuesday marked the conclusion of an American military mission that was alternately labeled a breeze, a mistake, a civil war, and a quagmire.
It has been a war whose "outcome was never certain, especially in the war's darkest days," said Secretary of Defense Leon Panetta, who flew to Baghdad to preside over the ceremony.
Today, "after a great deal of blood spilled by the Iraqis and the Americans, the mission of an Iraq that could govern and secure itself has become real," he added.
The uncertainty remains, US officials warn, but from the perspective of US troops here, "This actually represents an end," said Major General Jeffrey Buchanan, spokesman for US forces in Iraq. He spoke in the hours before what was dubbed the official "End of Mission" ceremony here.
It was two months after the launch of the war, on May 1, 2003, that President Bush stood on the deck of the USS Abraham Lincoln beneath a banner that declared "mission accomplished."
---