Pentagon to abandon two-war strategy, but at what cost to US security?
The Pentagon has long said it must be prepared to fight two wars at once. Budget cuts and changing global threats mean that standard is no longer practical, experts say.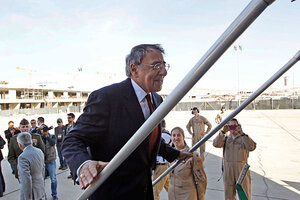 Pablo Martinez Monsivais/AP
The Pentagon appears to be on the cusp of abandoning a long-held strategic principle: that the US military should have the ability to wage two conventional wars simultaneously.
US Defense Secretary Leon Panetta is expected to announce the results of a large-scale strategic overview Thursday that will instead call for the military to be able to fight one large conventional war, and act as a "spoiler" for potential enemies in any other conflict that might crop up.
In the new military parlance, it's the "one-plus strategy."
The news is expected to draw a great deal of buzz, but how important is this shift, really? And how will it impact America's standing in the world? In practical terms, some analysts say that the "shift" has little meaning. In fact it's less a shift, they argue, than a "no duh" announcement.
Former Defense Secretary Robert Gates addressed the subject as he rolled out the Pentagon's 2010 Quadrennial Defense Review, the Pentagon's strategic way forward. "For years, US defense planning and requirements were based on preparing to fight two major conventional wars at the same time." It's a construct, he added, "that persisted long after it was overtaken by events. The department's leadership now recognizes that we must prepare for a much broader range of security challenges on the horizon."
What's more, the United States hasn't been able to fight two ground wars simultaneously for quite some time, analysts point out. Nor would it want to, others add.
---