Marine demoted to private to end Haditha trial. Did military justice work?
A pretrial agreement means Marine Staff Sgt. Frank Wuterich, the last defendant in the Haditha trial, will not serve any time in prison for his role in the killing of 24 Iraqis in 2005.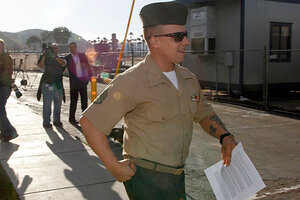 Alex Gallardo/Reuters
Did the US military justice system work?
That's the question defense analysts are asking on the heels of a Marine Corps judge's recommendation Tuesday that the sergeant in charge of a team of US troops responsible for killing 24 Iraqis, including seven children, receive 90 days confinement and reduction to the rank of private.
As a result of a pretrial agreement, however, Staff Sgt. Frank Wuterich will not serve any time in prison.
Staff Sgt. Wuterich was the final defendant to be tried in what became the infamous Haditha case. Seven other US troops were charged along with Staff Sgt. Wuterich for their actions at Haditha in 2005 and for allegedly obstructing justice afterward.
Six ultimately had their cases dropped, and one was acquitted.
Following closely on the heels of revelations about Abu Ghraib prisoner abuse, Haditha became synonymous with accusations that the US military was recklessly disregarding the safety of civilians and those in its custody.
After a roadside bomb killed one Marine and two others on the morning of Nov. 19, 2005, in the Anbar Province town of Haditha, Wuterich and his squad went on a rampage, allegedly in pursuit of a gunman who fired on them from a house after the explosion. Wuterich was accused of manslaughter, assault, and dereliction of duty for his role.
---