Iraq war ends: what it was like on the last US flight out
The last military flight of the Iraq war left the country Saturday night. For many of the jubilant troops aboard the C-17, the Iraq war had come full circle, and it was time to go home.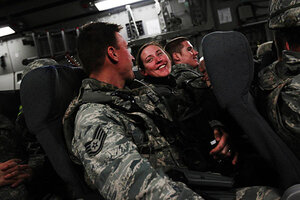 Shannon Stapleton/REUTERS
On the US military's last plane out of Iraq Saturday night, troops on board are in a festive, if slightly skeptical mood.
The Air Force crew manning the C-17 cargo plane has been told on previous missions that theirs will be the final flight out of the country in which America waged war for 8-1/2 years.
"They've said it was the last flight to us three or four times," says Staff Sgt. Kristi Benton, reading a Dean Koonz novel.
But these had been false alarms, due to routine logistical swaps and tweaks.
Presently, however, the Air Force's top noncommissioned officer in Iraq, Command Chief Master Sgt. Mike Hanning, boards the plane.
"I've been waiting for this day for a long time," he says, settling into a jump seat.
As a pair of two-star generals appear as well – the highest-ranking Air Force commanders in Iraq – the crew begins to believe it: They will be the last airmen on the last American military flight of this war.
Maj. Gen. Anthony Rock, in charge of the Air Force's training mission in Iraq, climbed to the cockpit to tell the captains the news. "They didn't know," he says.
When he informed them of this news, he adds, "They didn't believe it."
For General Rock and his longtime friend Maj. Gen. Russell Handy – the Air Force's top officer in Iraq – the flight is both somewhat surreal and professionally profound.
It marks a poignant final chapter in a conflict that has spanned more than two decades of their careers.
---