How can Army keep soldiers fighting fit after Afghanistan? Avatars
Military officials are using video games to evaluate troops, but making soldiers' avatars – their virtual selves – more closely mimic the soldiers' actual skills is the next frontier.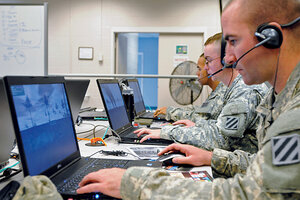 Sgt. Mary Katzenberger/U.S. army
For Col. Anthony Krogh, the approaching end of more than 10 years of war seems more like a call to action.
The wars in Iraq and Afghanistan have taken a toll, but they have also left the US Army battle-tested. As peacetime draws nearer, the Pentagon is grappling with a vital question: How can the military keep its soldiers engaged and fighting fit, both physically and mentally?
Krogh thinks he knows one answer: video games. Short of building fake villages "with goats wandering and smells and all that," video-game training is the only way consistently to put soldiers in environments like the ones they have operated in since 2001, says Krogh, head of the Army's national simulation command.
But just how helpful can video games be in guiding the next generation of troops? Can cutting-edge video-game technology give commanders a realistic idea of how well their troops will fight a war, or climb a mountain, or shoot a rifle under stress? Can they even help troops to be more ethical?
Krogh's job is to make sure the answers to all these questions are "yes," and his latest challenge in this quest is making sure each soldier's virtual self – his or her "avatar" – is as realistic as possible.
The reason? When military officials began evaluating the effectiveness of video-game training, they discovered that the games were dramatically overestimating the ability of the young soldiers/players. In a war-game exercise in January, the Army found, for starters, that it took "real soldiers" one-third longer to complete a mission than it did their avatars.
---