Cyberdefense: Should Americans be concerned about their privacy?
As Congress weighs information-sharing among government agencies, including the NSA, in the name of cyberdefense, the Pentagon is seeking to allay Americans' privacy concerns.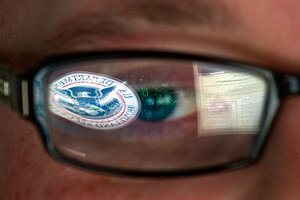 Mark J. Terrill/AP/File
The Pentagon continues to beat the drum of potential cyberwar. As US cybersecurity deteriorates with the rise of unwelcome attacks on US military networks, Defense Secretary Leon Panetta has dubbed cyberspace "the battlefield of the future."
But in the midst of the Pentagon's preparation for this next generation of war, critics have raised concerns about just how this bolstering of network defenses might impact the privacy of everyday US citizens.
Several new bills before Congress seek to increase information-sharing among government departments, among them the National Security Agency, the entity responsible for electronic eavesdropping.
Will these new cyberdefense initiatives mean that the NSA will, say, stockpile the private e-mails of Americans?
These fears have not been allayed by the ongoing construction of a sprawling new NSA data center – to the tune of 100,000 square feet of computer banks on 240 acres – at Camp Williams, Utah.
This week, Gen. Keith Alexander, the head of US Cyber Command, made an effort to reassure an audience at the conservative American Enterprise Institute that cybersecurity and the protection of privacy are not mutually exclusive.
---