Afghanistan: Why don't we leave now?
The rise in attacks by Afghan forces against Western troops is threatening US-Afghan military cooperation – a key reason to stay until 2014. The trend could affect the US exit strategy.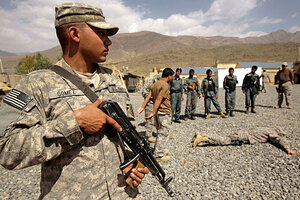 Maya Alleruzzo/AP/File
Why can't we just leave Afghanistan now? It's the unspoken question that top Pentagon officials are endeavoring to answer in their assurances that America must stay its course in the war-torn country.
It comes in the wake of a spate of "insider attacks" by Afghan security forces that have left 51 NATO service members dead this year – a 45 percent increase in such attacks over 2011.
It also comes during a month in which the surge of 30,000 forces that President Obama ordered into the country in 2009 is ending. By the end of September, some 68,000 American troops will remain in Afghanistan.
The majority of US troops are scheduled to depart in 2014, when US combat operations will come to an end.
The nation's top military officer, Chairman of the Joint Chiefs of Staff Gen. Martin Dempsey, stressed this week that the surge's purpose was "to buy us some time on some Taliban initiatives," he said, "and to buy us some space to grow the Afghan security forces."
He says it worked, but grappled aloud with its cost. "The surge had its intended effect," General Dempsey said. "I think it was an effort that was worth the cost – and don't forget, it did have its cost."
That cost continues, in both money and lives.
One American is killed every day in Afghanistan, on average, this year.
In a time of budget-cutting, the US treasury spends $60 billion a month on the war. On an annual basis, that's enough to buy groceries for every American family for more than a year and a half.
---