Pentagon warns that insider attacks could derail the war in Afghanistan
In its latest mandated update to Congress, the Pentagon reports that safe havens in Pakistan and corruption within the Afghan government are the greatest risks to 'sustainable security.'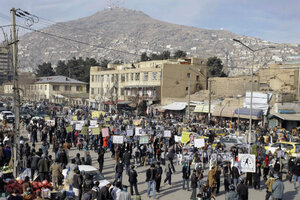 Musadez Sadez/AP
Although the level of violence in Afghanistan is higher now than before the surge of US troops ordered into the country by President Obama in 2009, senior defense officials argue that the strategy was still a success.
That's one assessment of the latest congressionally mandated report from the Pentagon on how the war in Afghanistan is going.
Among the report's other findings:
• Although the capability of enemy fighters has declined from its peak in 2010, the Taliban remains a powerful force throughout Afghanistan and may try to regain lost ground through a campaign of assassinations and high-profile attacks.
• Insider attacks – the latest Taliban tactic – have the potential to derail the US war in Afghanistan.
• Just one of the Afghan National Army's 23 brigades is able to operate independently, without US supplies or planes.
The report warns that the insurgency's safe havens in Pakistan and the corruption within the Afghan government "remain the greatest risks to long-term stability and sustainable security" in the country.
For now, some 68,000 US troops remain in Afghanistan, a quarter fewer forces than were there last year.
At the same time, civilian casualties caused by US and NATO forces have declined by 28 percent since 2010.
---