X-37B: US launches super-secret, orbiting, robotic plane
The X-37B is designed to stay in space as long as nine months and to collect electronic signals of all kinds in a way that other countries can't stop. The Air Force is not commenting on its mission.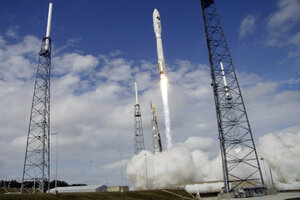 John Raoux/AP
The Air Force's launch this week of its new super-secret robotic plane into orbit is an important new technological step for the US military.
The X-37B Orbital Test Vehicle (OTV) looks like a mini space shuttle at 29 feet long. It is the third test of the OTV.
"It's testing the envelope for this vehicle, and so it's a big deal in that regard," says Capt. Nicholas Plante, a spokesman for the US Air Force.
Publicly, the Air Force says that this is a chance to fine-tune "an affordable, reusable space vehicle."
That is no small feat. In the past, US space "flight" has been less like flying and more akin to billiards, says James Lewis, director of the Technology and Public Policy Program at the Center for Strategic and International Studies in Washington. "It hasn't really been flight because in a flight you can maneuver, you can pull on the controls."
But the X-37B really does more closely resemble space flight. "A maneuverable spacecraft is unique," says Dr. Lewis. "It's really hard to do."
The aircraft is designed to complete a mission that lasts as long as nine months, according to the Air Force. After that time, the OTV will automatically reenter the atmosphere, and descend and land horizontally on a runway at Vandenberg Air Force Base in California.
---