Chuck Hagel, Vietnam vet: Would time as a 'grunt' be a plus at Pentagon?
If confirmed by the Senate, Chuck Hagel would become the first Vietnam veteran – and the first enlisted soldier – to hold the post of Defense secretary. To many military veterans, that matters.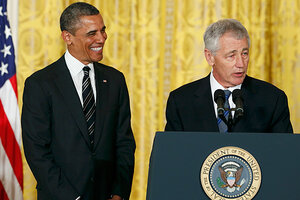 Kevin Lamarque/Reuters
For Chuck Hagel, the day he reported for duty in Vietnam as a young private first class is seared in his memory. It was December 1967, and the heat was oppressive. So, too, were the smells.
"I'll never forget, ever, the feeling I had walking off that plane," Mr. Hagel told biographer Charlyne Berens. "The humidity and the stench – I was physically sick to my stomach."
Then there was latrine duty, Hagel's first job in his tour. He collected the 50-gallon barrels from the latrines, to burn the waste. "You can imagine that smell," Hagel told Ms. Beren, author of 2006's "Chuck Hagel: Moving Forward" and an associate dean at the University of Nebraska-Lincoln. "I didn't exactly spend my first day as a great warrior."
These are the sort of wretched jobs that enlisted troops tend to recall as an almost-pleasant prelude to the fighting they must later do. For Private First Class Hagel, the ferocious combat was soon to come.
"Both of us," Hagel's brother told an interviewer in 1997, "were very, very good at killing."
President Obama's nominee to be the next secretary of Defense, if confirmed, would be the first Vietnam veteran to head the Pentagon. Hagel would also be the first enlisted soldier to hold the job.
His combat experience intrigues many current veterans, who believe it could make Hagel one of the more qualified defense secretaries America has ever had.
---