With Hagel at Defense, what would be America's 'special role'?
America's historic identity as a people with a universal mission faces a new era in Obama's nomination of Chuck Hagel as defense secretary. Israel and even military cuts aren't the core issues. America's 'special role' is.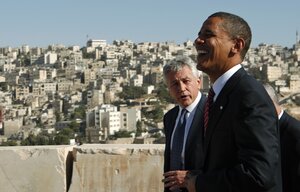 Reuters
Americans may want to follow the Senate debate over the nomination of former Sen. Chuck Hagel, a Republican, to be secretary of Defense. The debate is really about them.
The decorated war veteran, if confirmed, would be in charge of making deep cuts to military spending, such as possibly reducing Army troops by at least 14 percent. Yet unlike previous Pentagon downsizings, such as after World War II and Vietnam, these cuts won't be driven only by budget necessities or an attempt to readjust America's special role in the world to new circumstances. They might also be a downsizing of the very idea that the United States even has a special role.
A Hagel Pentagon would be a concrete step by Mr. Obama to fully redefine American "exceptionalism" – a term he once mocked – toward the notion that the US cannot easily rely on force to defend the global order or to advance universal values.
If the US has a historic global mission left from its Puritan origins or the ideals of the American Revolution, the president wants it to be one of restoring the nation's strength at home and resetting its own moral order. He wants to make the US a just society far more than adjusting others. He wants it to be only one of many nations in any foreign adventure.
Refitting the military toward mainly a US-centric defense posture would be a shift from a century-long American role that stretched over three world wars – World Wars I and II and the cold war – and then through smaller conflicts from the 1991 Gulf War to the remote US bombing of Libya in 2011. Most of those wars were to defend or promote liberty, with a big exception being the post-9/11 ouster of Al Qaeda from Afghanistan.
---