Iraq War at 10: for families of wounded, a mounting cost
Some 32,000 wounded Iraq War veterans face long delays for care at the Veterans Administration, and even less is known about the strains on some 1 million family caregivers.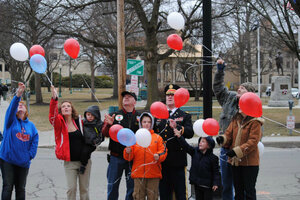 Dan Polinski/The Daily Review/AP
The 10-year anniversary of America's war in Iraq came and went with little fanfare this week, but in homes across the country, veterans – and the family members who care for them – continue to struggle mightily with the wounds of battle.
Two new studies highlight their plight. On a Friday afternoon this month, the Army quietly released a Pentagon Inspector General's report which found "non-compliance" on the part of the Army in processing soldiers' disability claims.
The report issued a further rebuke, noting that the method for filing disability claims is "increasing the workload and confusion for all participants and leaders concerned."
That navigating the veterans' disabilities claims process is confusing has long been known. The problem, veterans advocates say, is that it is not appreciably improving for the 32,000 troops who were wounded in the war.
A report released this month from the Center for Investigative Reporting, "The War Comes Home: Washington's Battle Against America's Veterans," finds that some 600,000 claims of wounded veterans from the wars in Iraq, Afghanistan, and Vietnam are backlogged as service members await an answer from the Department of Veterans Affairs.
By way of illustration, the "excessive" stacks of paper and claims folders piled around the offices of a VA regional office in Winston-Salem, N.C., for example, were so great that it "appeared to have the potential to compromise the [structural] integrity of the building," according to an August 2012 report from the VA's Office of the Inspector General.
---