Time for a preemptive strike against North Korea? Some say yes.
A University of Texas professor argues for a strike against North Korea in a New York Times op-ed. Some US military planners are sympathetic to the idea, while others accuse him of being a warmonger.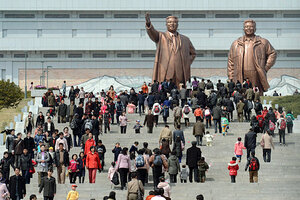 Kyodo News/AP
At the office of the secretary of Defense in the Pentagon, a plan for a preemptive military attack on North Korea was being presented to "a small, grim group."
"The plan was impressive," recalled an official who was at the presentation by US military strategists. "It could be executed with only a few days' alert, and it would entail little or no risk of US casualties during the attack."
It was also designed to have a low risk of North Korean casualties. But it allowed for some troubling contingencies.
"In particular, we wanted the plan to fully reflect that nuclear weapons were not the only weapons of mass destruction that North Korea had been working on. They clearly had chemical weapons, and their interest in biological weapons and ballistic missiles was also evident," the official recalled. "We all knew that we were poised on the brink of a war that might involve weapons of mass destruction."
The official was then-Secretary of Defense William Perry, and the year was 1994. He recounts the episode in a book he cowrote with Ashton Carter, who is now the No. 2 civilian at the Pentagon: "Preventive Defense: A New Security Strategy for America."
Such an attack didn't occur in 1994, but today, in the face of North Korea's belligerence, some are suggesting that the Pentagon dust off its plans.
"They have made a threat, and they have made a weapon – and it seems to me that is a legitimate reason for self-defense," says Jeremi Suri, a professor of history and public affairs at the University of Texas, Austin.
---