Pentagon extends military spouse benefits to same-sex married couples
Secretary of Defense Chuck Hagel outlined a new policy to 'treat all married military personnel equally,' including providing 10 days' paid leave for same-sex couples to travel to a state where gay marriage is legal.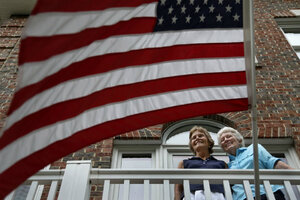 Charles Dharapak/AP/File
The Pentagon announced Wednesday that it will now extend benefits, including health insurance and base housing, to same-sex spouses of US troops.
The decision comes on the heels of a US Supreme Court ruling in June overturning the Defense of Marriage Act (DOMA), which said that under federal law a marriage meant between a man and a woman.
"It is now the Department's policy to treat all married military personnel equally," Defense Secretary Chuck Hagel said in a memo.
All military benefits will be made available to same-sex spouses no later than Sept. 3, as long as service members provide a valid marriage certificate.
These benefits will also include the ability for same-sex spouses to be buried at Arlington National Cemetery, to obtain military ID cards, as well as to be eligible for survivor benefits if their spouses are killed in battle.
The Pentagon continues to wrestle, however, with what to do about visas for same-sex partners of US troops who are serving in countries that do not recognize gay marriage, including Saudi Arabia.
"We have been looking, and places like Japan have popped up – they don't allow it either," says a US official, who spoke about the topic on condition of anonymity.
"Because of other countries' laws, it's tricky – that's the bottom line," says the official. "It's going to require more than just a wink and a smile."
---