Will Spitzer make list of politicians who survive scandal?
New York governor met little sympathy or support over sex scandal.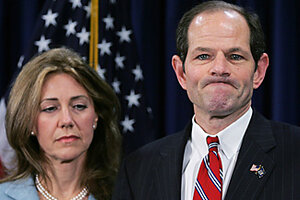 Shannon Stapleton/Reuters
In politics, there are scandals and then there are scandals that end careers.
President Bill Clinton withstood a public whipping to survive the Monica Lewinsky affair. Rep. Mark Foley (R) of Florida, though, was forced to quit in 2006 after revelations that he sent suggestive e-mails to former congressional pages.
With New York Gov. Eliot Spitzer's (D) political future uncertain after reports that he patronized a prostitution ring, the unhappy history of sex and politics offers lessons about what makes some scandals survivable, and others not.
Foremost, say political pundits, sexual impropriety can end a political career if hypocrisy lies at its heart. If a politician is a known rogue, as was Mr. Clinton, his likelihood of remaining in office is better than if he is a righteous crusader for family values, as was Mr. Foley.
Then there's the counterbalancing effect of political goodwill among a wrongdoer's colleagues and the public. The deeper that reservoir, say experts, the better the chances of survival.
Finally, there's the tenor of the times. The public today is more forgiving than it was two decades ago, perhaps in part because over the years it has become inured to lax sexual behavior on the part of so many elected officials.
But even with a more tolerant or resigned public, the vital determinant of scandal survivability, say experts, is whether what one does comports with what one says.
---