On Iraq policy, next U.S. president will have to adapt
Despite their rhetoric, '08 candidates try to keep their options open.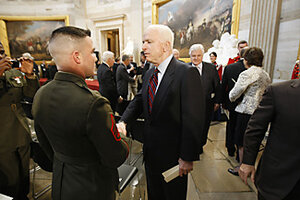 Gerald Herbert/AP
In the military, there's an adage that even the best plans don't survive contact with the enemy – a recognition that any approach must be adapted to the circumstances of the moment. The same might be said of the major presidential candidates when it comes to how each intends to tackle the war in Iraq.
However adamant they are now about their respective plans, the candidates will have to conform their positions to whatever security and political situations they confront as commander in chief next year, say analysts.
The two Democrats' plans to withdraw US troops quickly, for instance, may be tempered by the practical realities of what that entails. If Republican Sen. John McCain is president, he would need to be responsive to the electorate and find a US troop level for Iraq that is sustainable.
The quest for wiggle room came into relief recently when an aide to Sen. Barack Obama (D) disclosed that Mr. Obama's plan to remove most US troops from Iraq within 16 months was "a best-case scenario," a nod to those who suggest that Obama's plan is unrealistic. That aide, Samantha Power, left the campaign. But supporters of each of the candidates acknowledge that positions could change at least slightly when any one of them gets into office.
---