McCain charts own course to boost GI benefits
His plan is at odds with a bipartisan bill backed by Clinton and Obama.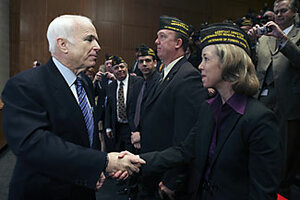 Mary Altaffer/AP
Vietnam War veteran Sen. John McCain calls the American GI bill that gave a generation of soldiers an opportunity to receive an education "one of the greatest things about the 20th century." But he disagrees with prominent colleagues about how and how much those benefits should now be expanded for a new crop of veterans.
Senator McCain, the presumptive Republican nominee for president, wants to expand the GI bill but his differences with Sen. James Webb (D) of Virginia, who has been pushing for new legislation for months, reflects the growing tension over how to help veterans returning from Iraq and Afghanistan in a rational way in an election year.
The bill proposed by Senator Webb, a former Marine and Navy secretary, includes expanded coverage of tuition and living expenses for four years equal to that of the highest-cost in-state public institution where the service member lives (for those who qualify for maximum benefits). Webb, who has bipartisan support for his bill, has been frustrated with the Pentagon, which has not clearly supported the new legislation, apparently over concerns that a generous GI bill will prompt service members to leave the military in wartime.
---