Congress to Wall Street: 'Curb excessive pay and perks'
Treasury Secretary Henry Paulson warns of measures that could slow the bailout bill, but says, "I share your frustrations" on executive pay.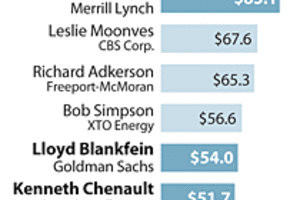 AP
Perhaps no issue so roils the American public – deeply divided over proposed rescue plans for US financial markets – than the prospect of high-flying CEOs walking off with seven-figure severance packages while US taxpayers take on the burden of their failed decisions.
The Bush administration, led by Treasury Secretary Henry Paulson, urgently calls for a quick, clean bill to remove troubled assets from the US financial system – "and avoid slowing it down with other provisions that are unrelated or don't have broad support."
But in a break from his prepared testimony to the Senate banking committee Tuesday, Secretary Paulson added: "I've heard your comments on executive compensation, and I share your frustrations."
Before the federal takeover of mortgage giants Fannie Mae and Freddie Mac, chief executive officers Daniel Mudd (Fannie Mae) and Richard Syron (Freddie Mac) were on track for a combined $24 million in severance pay.
"In those cases, CEOs were replaced, golden parachutes were eliminated, strong action was taken," Mr. Paulson told the banking panel, still ad-libbing.
But many members of Congress – on the right, left, and center – say the proposed plan must include explicit assurances, covering all cases, that CEOs participating in the bailout won't keep unreasonable perks at the expense of taxpayers.
---