Healthcare holdouts: Will Olympia Snowe be the 60th vote?
The moderate senator, who met with Obama Thursday, could provide the key vote in passing healthcare legislation. But he has yet to secure her support.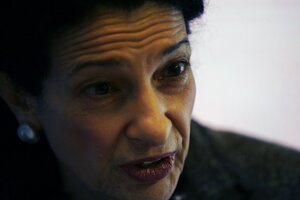 Pat Wellenbach/AP
Between his Thursday a.m. intelligence briefing and boarding Air Force One for Copenhagen, President Obama found two hours to talk with Sen. Olympia Snowe of Maine – his best, if not only, GOP prospect to vote with Democrats on healthcare reform.
With Sen. Ben Nelson (D) of Nebraska still on the fence on his vote, Democrats may need her as their critical 60th vote. But so far, even all that presidential face time has yet to secure her support.
"We should have more time to work through the issues and to review the [draft bill] in a way consistent with the US Senate as an institution," she says. "Why not use January as a way to continue to build consensus: Take a pause. Cool the passions."
---
Follow Stories Like This
Get the Monitor stories you care about delivered to your inbox.