Obama: Christmas Day attack was a 'systemic failure'
President Obama dramatically changed the tone of his administration's response to the Chirstmas Day attack on Northwest Flight 253, saying Tuesday that information about the alleged bomber 'was not effectively distributed.'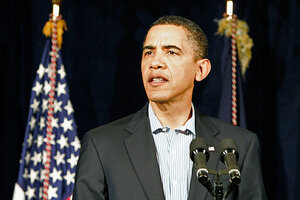 Hugh Gentry/Reuters
In his second statement in as many days, President Obama today sharpened his administration's response to the Christmas attack on a Northwest airliner.
"A systemic failure has occurred," he told reporters in Hawaii, where he is vacationing with family. "And I consider that totally unacceptable."
It's a sharper tone than the one assumed by White House spokesman Robert Gibbs or Homeland Security Secretary Janet Napolitano, whose talking points in Sunday talk shows were: The system worked. The traveling public can be confident.
The president also set a Thursday deadline for preliminary findings on reviews of the terrorist watch list system and air travel screening, which were ordered after the attack.
These will tell us more, he said. "But what already is apparent is that there was a mix of human and systemic failures that contributed to this potential catastrophic breach of security."
Those failures include not getting the suspect's name on a no-fly list: The father of the suspect warned US officials in Nigeria about his son's "extremist views," the president said. "This information was passed on to the intelligence community "but was not effectively distributed."
Administration's new tone
Until now, members of the administration speaking publicly have made the case that there was not enough credible or derogatory information to move the suspect from a general list of some 500,000 people to a no-fly list of some 3,400 people.
"You have to understand that you need information that is specific and credible if you're going to actually bar someone from air travel," Secretary Napolitano told CNN's "State of the Union" on Sunday.
---