Last line of defense against in-flight terrorism: passengers
Terrorism on 9/11 permanently altered how passengers respond to airline hijackings, rewriting the conventional wisdom that the best way for passengers to stay safe is to stay quiet.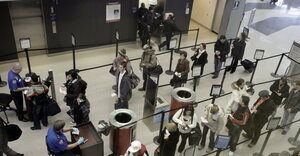 M. Spencer Green/AP
While the Christmas Day attempt to blow up a Northwest Flight 253 revealed the limits of airport security in thwarting terrorism, it did prove the effectiveness of one post-9/11 defense mechanism: passenger vigilance.
It was the reaction of Jasper Schuringa (a Dutch video director), other passengers, and the flight crew that prevented Umar Farouk Abdulmutallab from igniting explosives and potentially bringing down Flight 253 flying to Detroit from Amsterdam, authorities say.
"I just jumped. I didn't think. I went over there and tried to save the plane," Mr. Schuringa told CNN.
Those are the same kinds of instincts seen in passengers' response to shoe bomber Richard Reid, who tried to take down a Paris-to-Miami flight in December 2001 by lighting explosives hidden in his shoe.
"Passengers were eventually able to remove Reid's shoe and restrain him using belts and whatever was available. One man on board, a doctor, sedated Reid. Another passenger held a fire extinguisher as a weapon while Reid was being restrained," said then-US Attorney General John Ashcroft in a January 2002 press conference.
The rulebook changed on 9/11
---